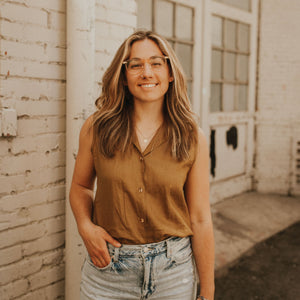 Hi, I'm Andrea. Founder of Golden Root
My journey with health and wellness started when I quit my job in traditional healthcare to work on a small organic CSA farm in Madison, WI. I wanted to understand sustainable and just food systems and learn how they could help power preventative health. I began to truly appreciate quality fruits and vegetables, and I had never worked so hard for them in my entire life. Since moving to Denver, CO, I have worked on natural food startups to try and bring healthy and thoughtful products to people.
Golden Root was born out of a curiosity to reduce inflammation in my own body by using turmeric in anything and everything in the kitchen. As an active Coloradan who enjoys skiing, hiking, and running, I wanted to find ways to incorporate turmeric into my daily diet, and to do with intention. I was familiar with the healing, anti-inflammatory, and blissful benefits of turmeric so I made various turmeric tonics at home to find comfort and relief.
OUR RECIPE
Finally I tried my hand at making a traditional Ayurvedic recipe called Golden Milk to soothe my inflammation. I wanted to create a powdered version of the recipe so that I could conveniently make it at home or on-the-go and share it with others. The first time I made a recipe, it tasted like drinking a bag of ground black pepper with hints of earthy tree bark. But I made it, over and over and over again, and after dozens of iterations, I finally found a recipe that I loved.
Golden Root is prepared and polished with my hands and heart. I hope you love it.
Warmly, Andrea
OUR RECIPE
DELIVER
We deliver the best possible experience.
CONNECT
We Connect a globally conscious and mindful consumer with the highest quality ingredients.

EMPOWER
We Empower people across the globe to improve their health through small, deliberate changes.
INNOVATE
We Innovate so every experience with Golden Root is better than the last time.